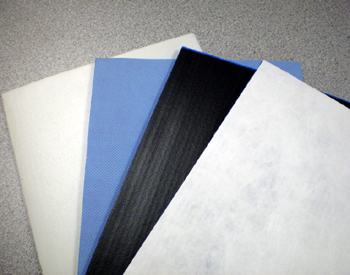 KAPCO supplies outstanding, quality, pressure-sensitive adhesive (PSA) coated materials to the Class A Protective Packaging Industry. We can custom adhesive coat Spun Bond, Tyvek, Cross-linked foams, and other engineered textiles for lamination to structural packaging materials. Placing your parts and assemblies in Class A Packaging helps prevent scratching and damage. This is especially invaluable during transport.
KAPCO also offers closure alternatives to zippers, screws, snaps, hooks, bolts and more with hook and loop, 3MTM Dual LockTM, die cut tape and more.
Cross-linked Polyethylene Foam is available in black or white, Spun Bond in blue, black, gray, or white and Tyvek in white. KAPCO also offers roll to roll and roll to sheet laminating up to 60" wide.
KAPCO partners with some of top names in the industry- ensuring that we meet the needs of a wide and diverse range of industries with up to date solutions. ISO 9001:2008 with Design.