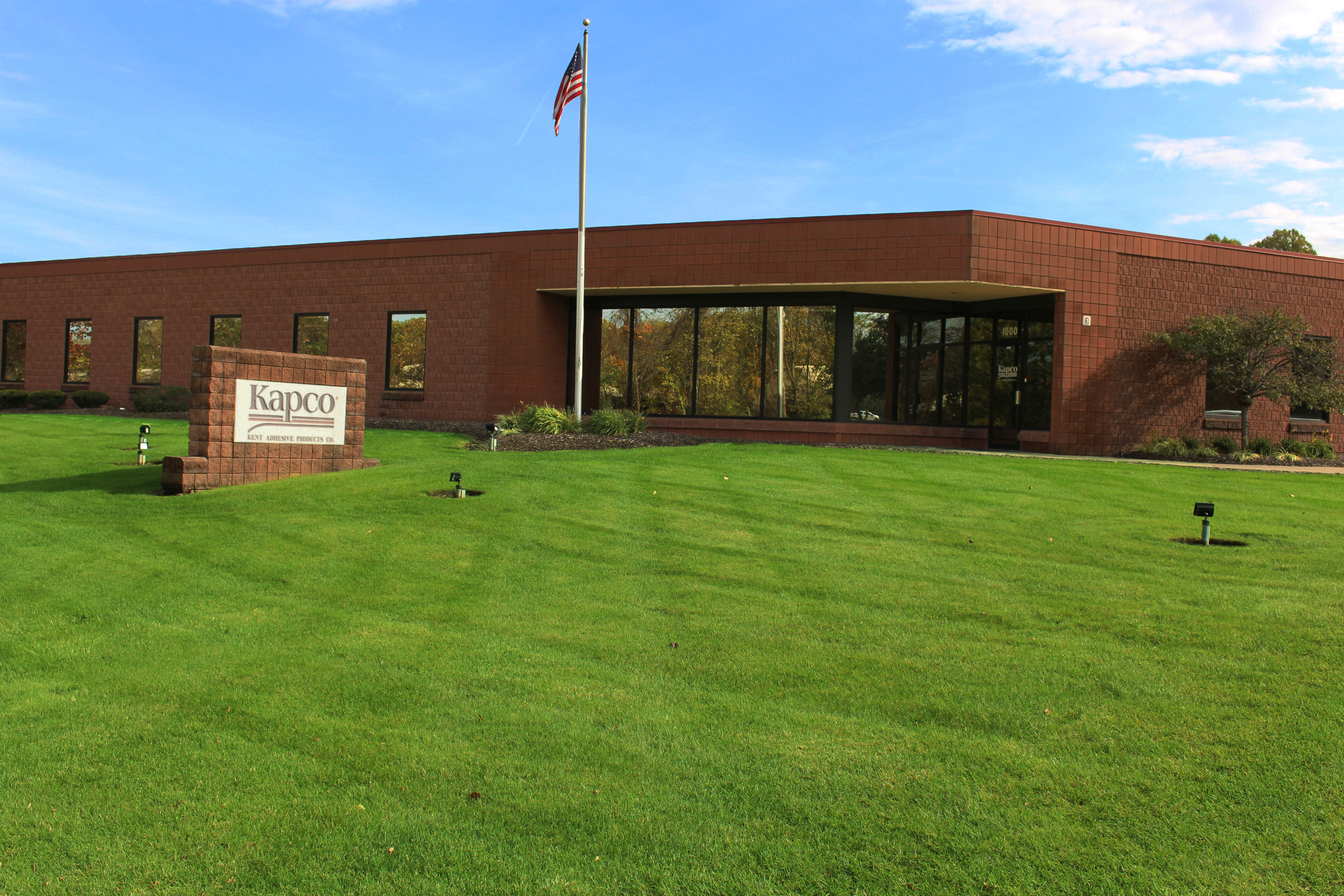 In 1974, Kapco was founded as a small job-shop that serviced a few local customers.  Some of the first products included packaging tape for dairy product and place-mats.  Since then, the business has expanded multiple times and now employs around 80 Kent- area citizens, and sells to hundreds of loyal customers worldwide.
In the beginning founders Joe Barnette, Dr. V. B. Yahner, and Bob Sibley had big plans for their small company. Their first facility in Kent, Ohio was 2,500 sq. ft. and was designed to be cost efficient while laying a path for future success. Within their first five years of business, Kapco doubled in size, allowing them to expand and move to a larger 12,000 sq. ft. plant. This would be the first of four moves in the first 25 years.
In Kapco's early stages of growth, they suffered a significant setback when in 1979, founder Bob Sibley suddenly passed, leaving the company in the hands of Joe Barnette.  As the business continued to grow, Joe understood he would need help, so in 1983 he hired Ed Small to lead the sales department.  Ed was the perfect fit and was able to continue Kapco's growth trajectory by forging close relationships with key customers.  Many of these relationships continue to this day.
Joe and Ed were adept at recognizing opportunity and in 1983 they saw such an opening in the Gerber Computer Aided Sign (CAS) machine which created sign vinyl with punched edges.  By modifying an old Schriber forms press Kapco was able to produce this type of sign vinyl and expanded the business once again. The Schriber press created many new digital opportunities for Kapco and it still runs today!
Kapco continued its expansion with the addition of Book Protection products in 1987.  This line of patented products, 14 patents in all, offered an effective way to make paperback book more durable and last longer.  Using a newly created book protection kit, Joe and Ed were able to showcase the products effectiveness at a book protection trade show in Pittsburgh. This trade show proved to be a breakout point for the product line and signaled the start of a successful business that would continue to this day.
Another significant area of growth for Kapco has been the adhesive coating business.  This business started in 1988 with the purchase of Kapco's first coater which provided adhesive backed vinyl for the sign industry.  This coater could coat adhesive up to 30" and was sufficient until the market demanded different sizes, leading to the purchase of a 60" coater in 1992. The book protection line also offered additional applications to help accelerate Kapco's growing coating business.
Coating opportunities continued to expand with the introduction of ink receptive media for water based ink jet printing platforms in 1995.  With this expansion, Kapco was able to create a whole new product line for the digital market place.  Today this product line resides within the Digital and Graphics business segment.
In 1996, Kapco moved into the plant it occupies today. This new location allowed for future growth all while providing an exciting new workplace for its employees. With modern equipment, expanded office space, a lunchroom, an outdoor area, and a softball diamond, Kapco was poised for additional growth.
In 2003 Dirk Desanzo purchased Kapco and championed the addition of a 81" coating line.  This asset would prove to be the foundation for Kapco's growth well into the next decade.
In 2006 Kapco suffered another significant loss with the passing of Dirk.  Through the tragic loss, the Desanzo's remained committed to making Kapco a great place to work along with continuing Kapco's legacy of growth.  Recent additions to Kapco's production capabilities include a state of the art Delta Press for converting complex constructions, a print lab, lab coater and a new 31" coater that offers extensive drying capacity along with excellent tension control.
Throughout the years, Kapco has far exceeded any goal   that Joe Barnette and Bob Sibley ever dreamed of. What was once a small job-shop, has turned into a thriving manufacturing plant with four significant business units, capable of producing thousands of different products. Through core beliefs,  which include a focus on our customer base and a leadership team that is committed to sustainable growth, Kapco it poised for success as we enter the next decade.