Powertape 1 1/2"x36 Yards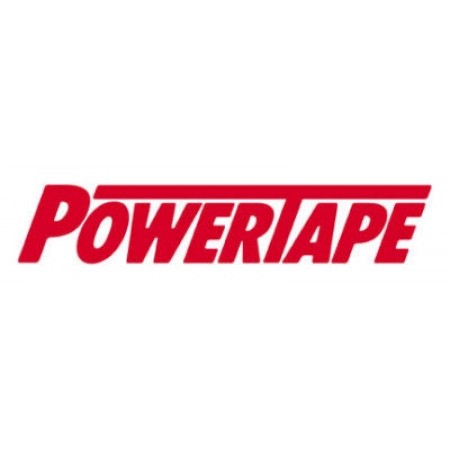 Reinforce banner edges without folding or hemming. Available in White.
Single-sided tape with super strong film
No need to fold the hem so there is no risk of unfolding
Apply PowerTabs™ First--Then apply PowerTape™ over PowerTabs--PowerTabs will not adhere to PowerTape because of its silicone release coating!
Clamp or tape both ends of banner with slight tension to remove wrinkles
Apply along top and bottom back edge of the banner--four-sided application not recommended
It is better to leave 1/8" to ¼" space between edge of tape and banner
Apply tape corner to corner--adding evenly distributed strength to banner--covering the PowerTab holes
Pull off an arms length of tape at a time
Primarily for use with outdoor banners
Will reduce edge curl on vertical indoor banners
Can be used with or without PowerTabs but only recommended without when using for indoor applications; PowerTape has only moderate strength when used by itself, but tremendous strength when used with PowerTabs
Recommended for banners in excess of 8' or where maximum wind resistance is needed
Dissolve PowerTape silicone release coating by gently rubbing the tape film with a rag dampened in nail polish remover
PRODUCTS FOR APPLICATION
Indoor/Light Duty Outdoor--PowerTabs with Rope attached through the Corner Loop or Mini Power Tabs
Heavy Outdoor--banners up to 8'--PowerTabs with Rope through Center Hole
Maximum Strength--PowerTabs & PowerTape
Product Details
"We use PowerTape to reinforce the tops of retractable displays. The problem is that the aluminum clamp at the top occasionally will nick the top of the polypropylene banner. Polypropylene doesn't have any directional strength so once a tear gets started, it just runs. A strip of PowerTape along the top edge is the perfect solution."
- Vince Tuccitto, Printing Finishing Solutions, Inc.
Need Help?
Need a custom solution or just have some questions? Our specialists are standing by to assist with all your needs.
Contact Us