Banner Ups Mini 100 pcs/pkg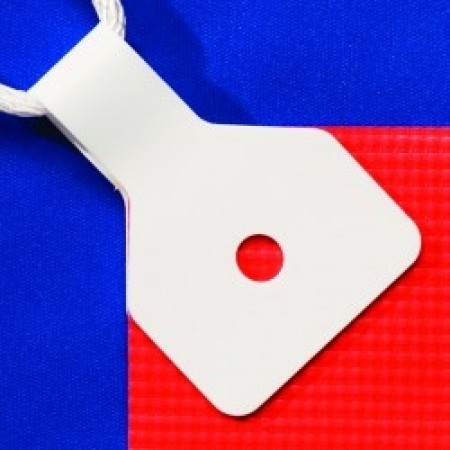 Available in Two Sizes. A cost efficient alternative to grommets. Eliminates the need for hemming. Hang indoor or outdoor signs, posters and POPs. Banner Ups® available in White; Mini Banner Ups® available in White and Clear. Sold in packages of 100.
Inexpensive alternative to Grommets
Wind Tunnel Tested--Banner Intact up to 78 mph mounted parallel to wind and 58 mph transverse to wind
Use additional tabs along sign edges--especially for banners more than 6' in length--every 3' along top and bottom edges of banner
Pre-wipe vinyl banners with alcohol
Temperature range for tab application is 50° to 120° F; after application, effective use range is 0° to 120° F
Cut off loop if not needed
Use with grommet for super strength
Lay banner face down toapply PowerTabs at all four courners to the "underside" half of the tab first and then fold over the top half
Product Details
"Facing the unique challenges of outdoor events in different venues, we needed a means of hanging banners for several different applications, i.e. fencing, bleachers, club houses etc. Thus we needed the flexibility of where the grommets would be placed. [We were] introduced to the solution to all our problems with Banners Ups. The application is not only easy, but so strong it can withstand severe winds. We love Banner Ups and urge you to try this product. I'm sure you'll be hooked like us."
- David McLane, president of Triple Crown of Polo
Need Help?
Need a custom solution or just have some questions? Our specialists are standing by to assist with all your needs.
Contact Us